Okay, I am not intending to start another thread that eventually leads to a lockdown. I hope this thread brings some humor to the forum.
I feel that I have sufficiently voiced my disapproval of Hans Zimmer's (HZ) music on this forum, and do not intend to start another debate which could lead to a nasty fight. BTW, even though I am not a HZ fan by any stretch, I do like some of his scores, such as Gladiator and Dark Knight, mainly because I enjoy the quality of the production.
What I wanted to share is my fascination and amusement with how different the studios of John Williams (JW) and HZ look like, based on whatever pics I find on the web. The reason why I think this is very interesting to compare, is because I feel that the profound difference in the makeup of their studios reflects a seismic shift in the way music is made over the last 50 years or so, with the advent of computers. In short, I would like to posit that music making shifted from the brain to the computer (i.e., less creative work for the brain and more for the computer). And this resulted in a fundamental difference in the way the music sounds as well.
Please note: I am not saying one is better than the other....at least for the sake of avoiding a fight, I can accept that what music is considered better depends on perspective, From my point of view, JWs music is better as I feel it has way more content. But I am willing to accept someone else's point of view that content is not the only thing for film music and quite often low content can have a great impact. HZ has had a huge impact on films (whether I like that or not, that's a reality)...
So lets set all that aside and simply compare their studios.
In William' case, we see his piano all the way in the back of the room, an artists creative table standing right next to it, where he presumably write his scores on pencil and paper. On his coffee table there are some random bits of things, including, what seems like a good ole tape voice recorder, and a "Book of American Negro Poetry", stacks of (probably) sheet music, and water bottle (from which I gather he doesn't like tap water!)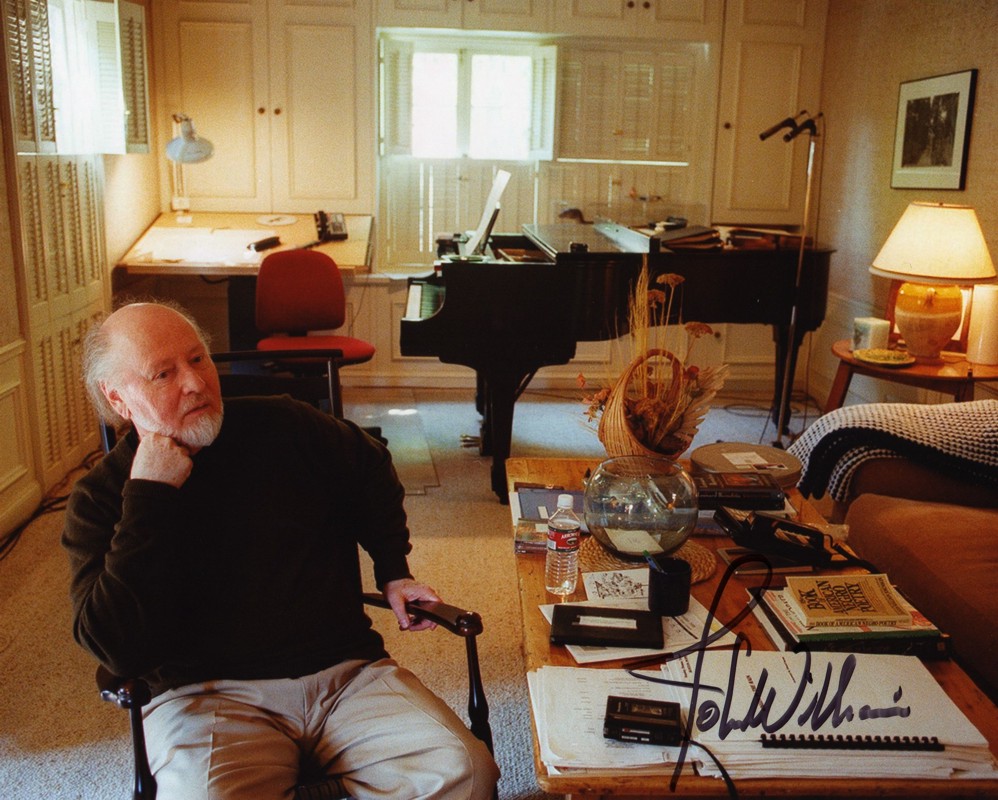 Hans's studio couldn't be more different. He is surrounded by massive monitors displaying DAW software controls, racks of computers, all kinds of keyboards and controllers. There is also massive TV screen...not visible in the picture below.
(Funnily, the only thing common to both their studios seems to be a lone water bottle, probably even the same brand. So they both do not like tap water and THERE is something in common between the two!)
What is remarkable to me when I see that picture of JW, and in my mind I hear the gigantic and beautifully complex orchestral sounds of Star wars, E.T., Close encounters, Jurassic Park Harry Potter and so on and so on...it all came from the brain of that man sitting on the chair, with only a pencil and paper and a piano as tools. Living in our age, JW HAD that choice to use computers, but he doesn't need them to make an incredible range of sounds. Some of the moments of climax in E.T. and Close encounters are unmatched in orchestral power in cinematic history, in my opinion (except perhaps scores of early Hollywood films like Metropolis, scored by Gottfried Huppertz )
HZ found an effective way to use the computers without racking his brain, I guess his brain works in other ways (that was to calm you down HZ fans), and I agree the sounds of 50 cellos and 20 Brass instruments up in a cathedral (Dark Knight?)+ taikos can be powerful. But it is not the same kind of power as JW's music.
When I see JW in that pic I see a craft that is probably dying, something that has been handed down via conservatories from days of Vivaldi, the craft of inner hearing, which makes your brain the synthesizer, the greatest synths of them all, leading to limitless possibilities.
Or perhaps that water bottle on HZs and JWs table holds a clue as to what could be common between their music?
That was my Sunday night spiel (berg? LOL). Good night all
Cheers
Anand
---